April 30, 2020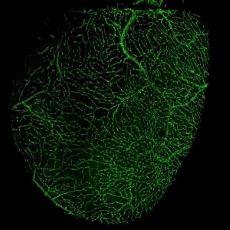 Photo:
Coronary vessels of an adult zebrafish heart shown in green. Courtesy of the 
Cao Lab 
April 29, 2020
Weill Cornell Medicine Cardiovascular Research Institute Laboratories of James Lo, M.D., Ph.D. and Jingli Cao, Ph.D., along with colleague Doron Betel, Ph.D.,  are among the Awardees for the Chan Zuckerberg Initiative to Support Inflammation Research. The CZI supports researchers to study how inflammation influences disease in cells and tissues. See CZI Award Press Release 
The CVRI laboratories will determine how the inflammatory response to heart injury, such as a heart attack, differs between fish and mammals. Their proposal 'Understanding Organism-Wide Inflammation After Heart Injury' was highlighted in the CZI Winners Announcement.
The CZI was founded by Facebook CEO Mark Zuckerberg and his wife Priscilla Chan, in 2015. This year, the CZI is funding to 29 inter-disciplinary teams, a total of $14 million, with grants up to $175,000 each.
Congratulations to Drs. James Lo and Jingli Cao!